Floor Covering World provides you the latest Flooring Information and News on All Types of Flooring
Choosing the correct Type of Flooring is a very important decision you will need to make when it comes to remodeling or decorating your home. Your choice of floor covering also determines the difficulty of installation. There are different methods of flooring care depending on the type of floor covering you choose.. Different types of flooring materials have their special qualities, functions, benefits and disadvantages. The most popular flooring types are Luxury Vinyl tiles (LVT),Laminate Flooring, Hardwood Flooring, Carpet flooring, Engineered Hardwood Flooring, Bamboo Flooring, Peel stick Tile Flooring, and Garage / Basement flooring. For flooring care see the top rated Vacuum cleaners on Amazon below We provide flooring installation tips and how-to install flooring videos for wood laminate flooring, hardwood flooring, bamboo flooring, carpet flooring, ceramic tile flooring, vinyl flooring including luxury vinyl tiles (LVT),peel and stick vinyl tiles (aka self-stick vinyl tiles), concrete flooring, cork flooring , all types of garage flooring , all types of Tile flooring and more. The Information provided on Floor Covering World will hopefully help you decide on the flooring type and flooring manufacturer best for your needs as well as provide you with helpful flooring installation tips and tricks including how-to-install flooring videos. You will also have the opportunity to purchase all types of discount flooring.
Luxury Vinyl is in Demand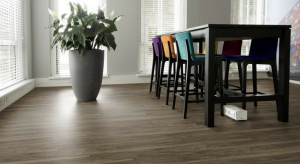 Vinyl emulates the look of natural wood flooring.   Choices for luxury vinyl tile flooring (LVT) include a variety of styles, colors, textures and patterns. Add in vinyl's easy-to-clean characteristics, comfort under foot and family-friendly stain-resistance, and the result is increasing popularity among home owners. The demand continues for the "luxury vinyl" flooring. Premium resilient flooring with look a like qualities that are increasingly difficult to distinguish from stone, wood plank and ceramic tile. At $3.50 to $6 per square foot, luxury vinyl products are at the middle of the flooring price range. The ability of these products to copy traditional high-end materials, such as marble and exotic hardwoods, puts  good looks at your feet and at a fraction of the cost .See here for a list of Luxury Vinyl Tile Manufacturers
Advantages of Laminate Flooring
Laminate Wood Flooring looks good and is made to resemble the look of wood, stone or tile. Its durable because it resists scratches and stains. Laminates can be priced perfectly to suit your needs. There are many reasons why a laminate wood floor may be your best choice. Read More
Carpet Flooring is Tops
Carpet remains the market-share leader, accounting for more than 50 percent of all retail flooring sales. Manufacturers' response to the stagnant home market has been to provide more fashion-oriented options at all prices. Read More

"The variety of carpets these days is nothing short of amazing," says Davis. "Pattern, design, colors, interesting cuts, the whole feel of the material. There're more wow-factor choices than ever."
Popular Types of Flooring
It appears that from the number of monthly searches that Laminate flooring is the most popular type of floor covering. Select the type of flooring for your room according to the room's function, the desired effect, the amount of foot traffic you have and of course your budget. If you are a handy person, installing your own flooring can save you a lot of money.
Inexpensive laminate flooring provides you with the opportunity to have elegant floors in your home without dishing out a pile of cash. You can buy both laminate flooring and hardwood flooring at discount prices if you are a savvy shopper. Many flooring retailers regularly have sales during times when people are not buying many home improvement products or when they want to move stock in a short period of time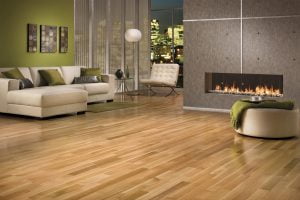 to make room for more. Discontinued lines are also available as discount hardwood flooring, but you have to make sure that you can get enough of it to complete your room. When you buy discount laminate flooring, you are not sacrificing quality for price. There are many well-known retailers that offer discount laminate flooring to customers when they have an overrun or too much inventory in their warehouse. When you go to buy laminate floors, you will experience a difference in that you won't be able to place a deposit down and then collect the flooring at a later date. You will have to pay the full amount upfront and take the flooring with you when you leave. The retailer may or may not include free delivery when it sells hardwood or laminate at a deep discount price.
What are the most popular types of flooring?
The Most Popular Types of Flooring: A Comprehensive Guide
When it comes to choosing the right type of flooring for your home or business, there are numerous options available in the market. However, some types of flooring stand out from the rest in terms of popularity and demand. Here are the most popular types of flooring that you may consider Read More
The potential pitfalls of luxury vinyl flooring
Luxury vinyl tile (LVT) is the hottest product on the market today, and it's also the product that's generating the most number of complaints and claims in the flooring industry. So it's worth it to take a closer look at LVT's popularity and possible problems. Is Luxury Vinyl Tile (LVT) better than Laminate Flooring ? Read More
In lesser quality LVT, the finish or wear layer may create problems. If it's too glossy, it will show scuff marks, and if the surface texture is too coarse, it can produce white marks.
Dimensional stability. This can be an inherent problem with a product that is not annealed or not annealed properly—annealing is the process of heating and then slowly cooling to bind the layers, making the product strong and stable.
The edges of the product might also curl, or the product might dome (lift in the middle) so when walked on, it may make noise.
The product may also delaminate, the top layer coming off, usually starting at a corner.
LVT will also react to environmental conditions of hot and cold and even humidity. Just because it's vinyl doesn't mean that it won't react to the same conditions as other flooring materials. Heat can make the material grow and expand; cold can make it contract and get brittle; and moisture in the air or from the substrate can cause the product to become unstable.
Effects of Temperature and Humidity on Floor Coverings
This subject may seem absurd to some people, it certainly has garnered responses of "you're nuts" when being brought up as a cause for flooring material an installation failures, but rest assured, it is a legitimate issue. It becomes a bigger issue when you consider the green movement and it's implications on start up of HVAC systems in new buildings. We've only seen the tip of the iceberg, in my opinion, on this issue.So why should varying temperature and humidity affect floor covering materials and how do they? As with all products, regardless of what they are, temperature and humidity have an effect. Carpet is reactive to the effects of heat and cold by expanding and contracting. Hard surface sheet goods and tiles do the same. Hard surface material, such as sheet vinyl, will also become brittle in extremely cold temperatures and could crack or break. Rolls of carpet when extremely cold can become as unruly to handle as wrestling a bear.  Read more on the effects of Temperature and Humidity on floor coverings
Best type of Carpet tiles for your basement
When it comes to choosing the best carpet tiles for your basement, there are several factors to consider such as durability, moisture resistance, ease of installation, and design options. Carpet tiles, also known as carpet squares, are a popular choice for basements due to their versatility and practicality. They offer a wide range of benefits compared to traditional wall-to-wall carpeting, making them an excellent option for basement flooring. Here is a list of carpet tile manufacturers READ MORE…